In the Town of Grafton, MA, the Town's Historical Society sponsored Grafton History Day on Saturday, May 18, 2013. Celebration activities took place on the Common and also in the historic buildings surrounding the Common beginning at 9:00AM and continuing until 3:00PM. There was a Civil War encampment set up on the Common. The soldiers dressed in Civil War uniforms and conducted marching drills and other demonstrations. A Civil War monument was dedicated.
Other Civil War era exhibits were presented in the Old Town House and the Unitarian Church located next to the Common. Both of these buildings were rebuilt in 1863.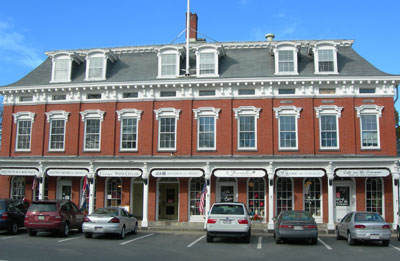 In addition to these exhibits, Gilmore Building Co. - an historic home builder and remodeler doing business in Grafton, MA - presented a photo exhibit showing some of the Town of Grafton's historic Civil War era homes. Gilmore Building Co. offices are located in the Old Town House building shown on the right.
The Gilmore Building Co. exhibit not only presented photos of the historic Grafton homes, but it displayed them side-by-side with photos of the Company's new homes whose designs were inspired by these classic Grafton 1860's designs. The Company's new homes that look like they were built 150 years ago are called "new-old homes." An example of the new-old home architectural concept is the John Pierce home shown below. It was inspired by the original home on North Street in Grafton that was built by John Pierce in the 1800's. Images of the Gilmore Building Co. display are provided below.