I Want To Build A New Home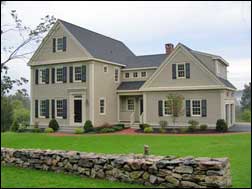 Congratulations on deciding to build a new home!
Your motivation to make this decision may have been based on an intangible factor such as the desire expressed in the next statement. "I've always wanted to build my own home so it will reflect my personality. We can design our home so it provides the layout, room sizes and amenities we have always wanted. Our home will fit our needs."
Now only the details stand between you and walking through the front door of your new home. Your main task is to ensure your new home is built within your budget and the details are executed precisely in the way that will allow you to achieve your goals. For sure there is a long list of details including: who can I trust to do the construction, is an architect needed for the design, can I work with just one company to design and build the project, can I be assured it will be built within my budget, how does the project financing work, what style options are available to me, where do I get information on materials and systems to be installed, can I ensure my new home's energy demand is minimized, can I take advantage of energy use efficiency improvement income tax credits, etc.
It is time to call in the experts. You will need them to form a team with you. You want them to support you and protect your financial interests as the team works through the details. So your next decision becomes deciding if the design-build approach to completing your project is best for you. (You can find discussions on the design build approach elsewhere in this web site.)
The design build approach is considered to be an industry best practice. The design build approach is recognized to be easy and cost efficient for the homeowner. It is easy because it allows you to collaborate with one company to guide you through the design phase, develops an acceptable construction budget, and then builds your home. The design-build company accomplishes this by assembling and directing a team of professionals that includes engineers, classically trained architects, craftsmen, and other professionals as necessary.
The design build approach is cost efficient because by having one company take responsibility for the design and construction, the design build company knows the project must be accurately budgeted and the budget controlled from the concept phase to completion. You and the company build the project on paper first before the construction actually begins. This allows you and your team to have an intimate understanding of what it will ultimately cost and look like.
You benefit from the design build approach in several ways. The approach is recognized to be more efficient and therefore, lower in cost and it yields a higher level of consumer satisfaction. The approach also allows you to focus simply on your vision, desires and the project's financing while the design build company ensures everything else is done on-time and your goals are achieved.
Gilmore Building Co., Inc. can assist you in several ways. First, we are a design build company that is noted for the effectiveness of its design build approach. Secondly, we are also recognized a skilled builder that produces exceptional quality homes ands perform its duties with high integrity. Additionally, if you intend your new home to have old New England traditional architectural styling, you have chosen to build a home that is our specialty.
Although we build other architectural styles as well, we specialize in designing and building the new-old home. This home combines New England traditional architectural styling from the 18th and 19th centuries with innovative building technologies and today's convenience amenities. Our new-old homes look and feel as if they were built in a century passed, but they are of new construction that utilizes Green Building technologies that promote environmental sustainability. These homes also are built to minimize heating and cooling (energy) demands. For sure, owners of our new-old homes are rewarded with value that endures.
The new-old home is the best other way to own and enjoy a beautiful old New England home.