I Want To Decide Between Building Or Remodeling
If you are trying to decide whether to build a new home or remodel your home, the following information will help to make the decision.
Building a new home or remodeling are both interesting and exciting undertakings. However, the overall process of completing the project can be intimidating. Both projects are generally considered to be complex and challenging because of the great number of details to be resolved. Each decision you make has a project budget impact. However, don't be deterred by the many details / concerns. It is very possible to turn your vision into reality and have a satisfying experience doing it.
To proceed with a new home, you first have to get past two very high hurdles: finding land and settling on the architectural style. After these decisions are made, the only thing between you and stepping through the front door of your new home is your walking through the details of getting the project completed within your budget.
Generally, the biggest hurdle is finding the land to build on at a reasonable price in the location in which you really want to be. With commuting costs and time having an ever increasing effect on the decision regarding location, acceptably priced land located in Metro West Boston or greater Boston is increasingly hard to find.
There is another way to find land that can be considered. The traditional way has been to find land that has never been built on before, the green field. The other way that is becoming more attractive today is buying an existing home that may not suite your needs, and expand and renovate it. The existing home may not suite your needs, but maybe the home is located in the Town you want, or the lot size gives you the yard you want your kids to be able to play in. In effect, you buy the home with and eye to what it could become. You focus more on the lot and the location and what that current home could be turned into. With regards to the existing home you look at it with an eye of how you can change it to better suite your needs. With this method you have obtained that hard to find piece of land.
The second major hurdle is the style of home you want to live. For many people, the style has been known for awhile and for others picking a style is going to be a lengthy discovery process.
If you can find your highly desired land, the decision to remodel should be made only if building new has absolutely been ruled out. Also, it is best to make the decision to build new or not build new based on intangible factors. The most motivating intangible factor is probably desire. "I've always wanted to build my own home, so it will reflect my personality. We can design our home to provide the layout, room sizes and amenities we have always wanted. It will fit our needs."
Once the decision to proceed is made, you only have to (1) ensure that your new home is built within your budget, exactly the way you want it and (2) execute the many many details. Certainly there is a long list of details including: who can I trust to do the construction, is an architect needed for the design, can I work with just one company to design and build the project, can I be assured it will be built within my budget, how does the project financing work, what style options are available to me, where do I get information on materials and systems to be installed, will I need to change my heating system, can I reduce my home's energy demand, etc.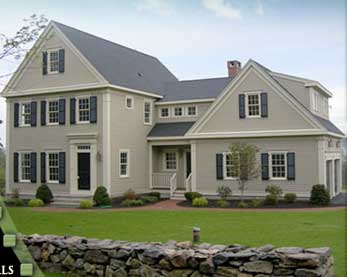 Next, you call in the experts. You want them to collaborate with you, support you, and protect your interests, especially financial, as they resolve the details. Your next decision is deciding if the relatively easy design-build approach to building your home is best for you. The design build approach is considered to be an industry best practice. (This web site provides detailed information on the approach.)
The design build approach is generally recognized to be easy and cost efficient for the homeowner. It is easy, because it allows you to work with one company that will design your home and then build it. You collaborate with one company to guide you through resolving the many details and your concerns, develop an acceptable budget, complete the design,and then build. The design-build company accomplishes these tasks by assembling and directing a team of professionals that includes engineers, classically trained architects, craftsmen, and other professionals as necessary. It is cost efficient, because by taking responsibility for the design and building, the design build company knows the project must be accurately budgeted and the budget controlled from the concept phase to completion.
You benefit from the design build approach in several ways. The approach is recognized to be more efficient and, therefore, lower in cost. It also yields a higher level of consumer satisfaction. The approach allows you to focus simply on your vision, desires, and the project's financing. It is the design build company's responsibility to ensure that everything is done on-time and that your goals are achieved.
Gilmore Building Co., Inc. is noted for its design build approach, and we specialize in the new-old home. In a new-old home, New England traditional architecture from the 18th and 19th centuries is artfully combined with innovative building technologies and today's convenience amenities.
Our new-old homes look and feel as if they were built in a century passed, but they are of new construction and, therefore, have none of the restoration needs or inconveniences typically experienced with an old home. The innovative Green Building technologies and materials used in creating our new-old homes reduce heating and cooling (energy) demands and promote environmental sustainability.
The new-old home is the best other way to own and enjoy a beautiful old New England home. New-old home homeowners are rewarded with value that endures.