Builder Home Remodeling and New Homes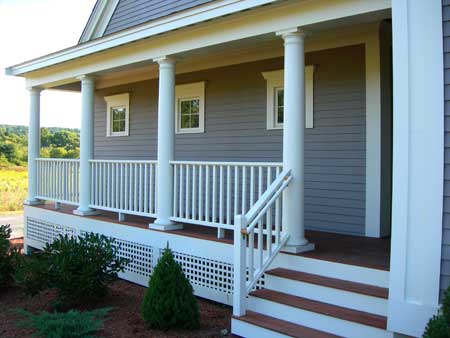 Gilmore Building Co., Inc. is a full service residential builder offering planning, custom design and building services for remodeling and new home construction projects. Our clients include homeowners and land owners developing land for housing.
Custom Design and Build
Because the home building process is complex, we care for our clients by providing the custom design and build process. Our design and build approach allows us to efficiently lead / guide clients through their projects and protect their significant investments in time and resources. Our clients profit from having one project manager take a concept through design and construction. The design and build process makes the home remodeling and building experience good and satisfying.
The New-Old Home
Our signature product is the new-old home. At Gilmore Building Co., the new old home architectural design concept means the artful combination of traditional New England architectural styling, innovative building technologies, and today's amenities. The historically inspired new old home appears to be two hundred or more years old, is built using innovative technologies, is energy efficient, has little maintenance requirements, and has the convenience provided by modern amenities.
Our new-old home projects include both new homes and remodeling. The new homes are built on a client's lot or a Gilmore Building Co. premium lot. Also, from time to time, Gilmore Building Co. will build a new-old home on one of its premium losts and offer it for sale through Realtors. Remodeling projects include those that add living space, remodel living space or revive the soul of a home. Each project is custom designed to accommodate each client's individual lifestyle desires.
New-old home projects reward their owners with value that endures. The new-old home is based on craftsmanship, timeless traditional architecture, classical architectural design principles and incorporates the latest Green Building products and technologies that reduce energy demand and promote environmental sustainability. Even now, and certainly in the future, it is essential that the building and remodeling of a home that is to provide enduring value includes the installation of systems that reduce a home's energy demand. Under the category of remodeling and consistent with the new-old home design concept, Gilmore Building Co. will assess a home's energy demand, design, and install the systems that will reduce this demand. Homeowners, therefore, can lower their family's budget allocation for energy and their carbon footprint.
It is Gilmore Building Co.'s expertise in combining the "new" and the "old" that makes living in a centuries old home a convenient reality. Ask us how our new-old home expertise can turn your musings into reality.