A Custom Design and Build Company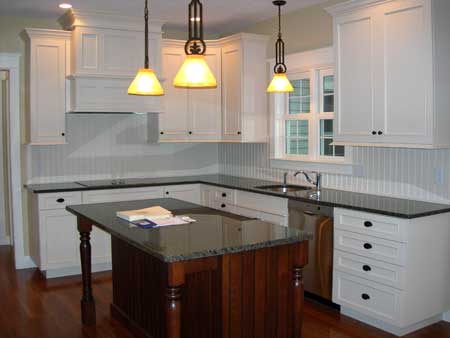 Gilmore Building Co., Inc. provides the custom design and build approach, which is an industry best practice. The custom design and build approach makes the remodeling and new home building process efficient and it ensures a high level of customer satisfaction.
Because of the benefits to the homeowner, progressive professional builders have taken the design and build concept that was developed in the commercial construction industry and have applyied it to residential projects. By taking responsibility for the design and building of a project, the builder knows the project must be accurately budgeted from the concept phase to completion. Furthermore, the builder, owner and a team of professionals assembled by the builder build the project on paper before it is actually built. This allows all of the parties involved to have an intimate understanding of the project scope and materials to be used.
In contrast, the traditional architect design and contractor bid approach requires the homeowner to retain an architect, develop a design and then receive bids from several contractors. Although the projects are beaytifully designed, the ultimate design cost can be much more than an owner's anticipated budget. This requires projects to be redesigned, which takes more time and money, or canceled completely for lack of budget. Furthermore, if the project is designed to be within the owner's budget, contractors will usually bid the project based on a minimum interpretation of the scope of work so they will have the best chance to win the project. This is a key flaw in the bid approach because it generally leads to conflicts between the contractor's and the owner's interpretation of the construction plans. The traditional architect design, bid and then build approach has been shown to often be inefficient and the approach exposes the owner to the a greater possibility for disputes.
Gilmore Building Co., Inc. protects its clients by utilizing the design build approach for all of its projects. We work together to develop the project budget, complete the design and then build the project. Throughout all these steps, a client has one point of contact, the project manager. We will also extend this collaboration to the initial phases of house lot review and include the following activities.
Review of a proposed building lot to determine if it will support the project.
Regulatory permitting implications review. This may include permits from the local Conservation Commission, Board of Health, Planning Board and Zoning Board.
Project planning and lot layout.
As a complement to the design build approach, Gilmore Building Co. also uses the construction project management approach. Through this approach, we assemble and direct a team of professionals to complete each project phase as appropriate. A team of profressionals can include engineers, classically trained architects, craftsmen, and other professionals as necessary. In addition to providing greater project value, the design and build plus projeect construction management approach is recognized to ensure a higher level of customer satisfaction.