The New Old Home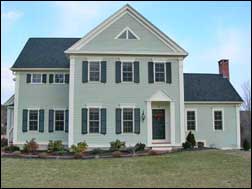 Many New England homeowners want to live in a uniquely New England home that was built in the 18th or 19th centuries because of that home's charm, grace and elegant craftsmanship. These homes are loved because of the captivating sense of warmth and well-being they engender. Owning such a home is a delight to many.
However, for some owning a home built 200 years ago is a dream they have always had but, because of the required resource commitments necessitated by many restoration projects, energy inefficiency and maintenance, they find that acquiring an old home is not reasonable for them. They cannot commit to live the "labor of love."
Imagine that you could live comfortably and conveniently in an olde New England style home without the challenges of old construction. Imagine capturing that same sense of warmth and well-being in an elegantly crafted home that combines New England's traditional architectural styles with innovative technologies and today's amenities. Imagine living in a newly built home that appears as if it were two hundred or more years old, is energy efficient, has little maintenance requirements, and allows you to enjoy all the modern amenities. You have been imagining living in a Gilmore Building Co. new–old home.
In the discipline of architecture, the new–old home concept is defined as new construction of a traditional architectural style home that incorporates the latest innovative building technologies and daily living amenities.
The new-old home design concept can be applied to remodeling an existing home as well. For example, homes built in the last few decades can be transformed and become a traditional New England architectural styled home that is energy efficient, low maintenance and provides today's lifestyle conveniences.