No need to worry says the Mr and Ms Treadway when you work with Gilmore Building Company, Inc of Grafton, MA. The reasons they feel this way about their design / build company is provided in the post-project testimonial they penned.
The Treadway's home was complete in the Spring of 2019 in Central MA in the Town of Harvard. The home's architectural concept is the New Old Home. It was designed by the Treadway's team that included Connor Mill-Built Homes of Burlington, VT and Gilmore Building Co. The home was built by Gilmore Building Company using factory-built panels provide by Connor.
Here is what Kate and David Treadway wrote: "Building our home with the superb team at Gilmore Building Company (GBCo) was a delight for us. We had no experience in building a new home and knew little about the whole process. Many folks think of building a new home from scratch as truly overwhelming; too many complicated decisions, too much unexpected costs, and often significant delays.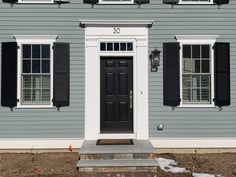 The workers and the crew were remarkably well organized. The whole project was precisely budgeted. All deadlines were met! Eric Gilmore made a priority of keeping us engaged and informed throughout the project and was very skilled at translating our ideas into reality. From start to finish he and his team were utterly dependable and trustworthy.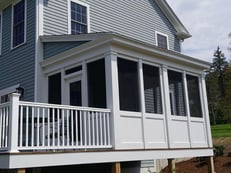 It was also great to work with Eric's interior designer, Julie Salmon. She did a truly wonderful job of guiding us through the endless details of choosing all the interior elements of a house from lights to sinks, to tile and more. Creating our home with GBCo was simple and purely fun! We give them our highest recommendation."