Wow! In the next ten seconds, I think you will agree that the testimonial quoted below truly defines the term "satisfied customer."
It is so gratifying to receive a testimonial from a client that was first, unsolicited and second, so wonderfully complimentary. It makes all the caring and hard work worthwhile. It shows that doing "it right" yields good results and happy clients.
"March 19, 2011
Dear Eric (principal at Gilmore Building Co., Inc.),
People tend to take it for granted when things go right, but for many homeowners living in New England this past winter, things did not go right. So, I wanted to thank you for a building a home for us that maintained a dry basement when the basements of the homes around me were flooded. Additionally, our well build roof with its proper attic insulation prevented ice dams from forming and assured we would not experience costly water damage as our neighbors did. Also, thank you for installing an efficient heating / insulation system that kept our heating costs reasonable in a period when oil prices skyrocketed. These examples are real-time testament to the quality and the craftsmenship you built our home with.
Best Regards, The Matthews Family"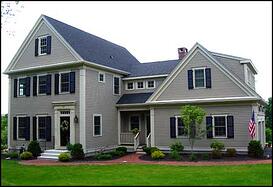 As is evident in this story, the skill of the Grafton home builder using the custom design and build process saves the home owner money and agrivation. Clearly, the Matthews family was enjoying their day while their neighbors were pumping water and trying to dry out their walls.