Thanks For Helping Us Serve You While We All Stay Safe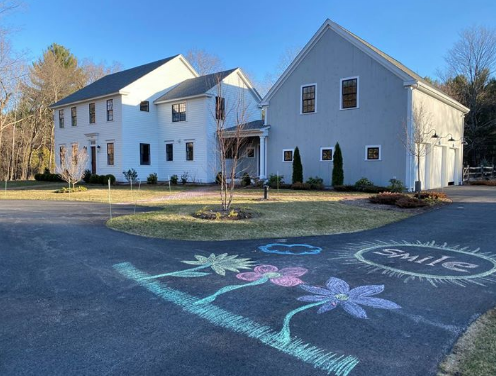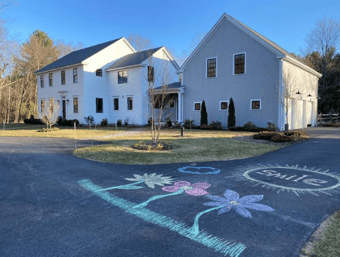 GBCo (Gilmore Building Company, Inc.) would like to take this opportunity to spotlight and thank our amazing clients, subcontractors and vendors because, during this pandemic, they have joined us in our efforts to protect us all as we move forward with meetings and construction of new home and remodeling projects. Thank you for your strength and for continuing to trust our ability to create a safe environment in these unnerving times. As the drawing in the driveway at one of our recent new home projects instructs - "Keep on Smiling."
In this pandemic and as always, the safety of everyone participating in a project has been a main concern. We have been able to continue planning and building projects during the pandemic with your support for changes and restrictions (based on Commonwealth of MA guidance) we put in practice. Here's are a few COVID safety practices / instructions we implemented in March and continue to follow:
Avoid any large groups and practice all social distancing techniques at all times. Maintain a 6' distance from all others.




Wear a mask whenever possible and especially when social distancing is not possible.




Utilize technology in place of in-person meetings wherever reasonable.

When remodeling, completely isolate the work area from the rest of the home with such as HVAC vent sealing and sill-sealed and wood framed walls. Screw temp walls into place. Then add plastic to further seal out dust. The walls will only be removed at the very end of a project.

Utilize the cleaning / sanitizing materials to wipe down frequently touched surfaces.




All subcontractors will utilize gloves, wash hands and/or use hand sanitizer.



Once again, thank you to our clients and everyone on a project team for your trust in our staff to complete your home project safely and with a smile.