If you want to love the new home design build process, assemble the right team. The Abergs did ...
Robert and Lori Aberg's New Old Home was designed and built by Gilmore Building Company, Inc. of Central MA. When the project team at Gilmore Building learned the Abergs were willing to share their experience planning and building a traditional New England style home, they were excited. In the video below you will see images of the home and hear Mr. Aberg recount his design build story and tell how he and Lori still have warm feelings about the process and how, every day, they love being in their new home.
Project Description:
The Aberg home is a traditional New England style farmhouse. The design was a collaboration between Rob and Lori Aberg, Architects: Rey Architecture and John Marro, III AIA and Gilmore Building Co. The team joined together to create a classic design Greek Revival home.
The project got underway when the Abergs purchased the last vacant lot available on historic South Street in Grafton. South Street has a collection of classic of homes, most of which were built in the 1800's. Examples of the classic architecture that make up the street-scape are Greek Revival, Italianate, Victorian and even some Queen Anne homes.
The Aberg's came to Gilmore Building Co with a well defined list of interior features they considered to be "must haves" but they did not have the exterior look defined at all. Their simple instructions were, ".... make our home look like it was built in the 1800's and consistent with the street-scape on South Street.
Ultimately, the project team created a classic Greek Revival style home with its gable to the road. The large front gables, welcoming front porch and the siting of the home accomplished the goal of making it look like it was built 200 years ago. However, the interior was set-up with a more modern wide open layout that was specific to Rob and Lori's needs. Furthermore, the home was built utilizing some of today's most efficient and technically advanced building science technologies. The first floor contained a master suite, a large open "clean" kitchen for entertaining that opens up to the great room and dining area, and a second "baking/dirty" kitchen for food prep. The second floor contains two bedrooms, 2 baths and an art studio, complete with northern light and southerly views where Lori can continue to practice her art.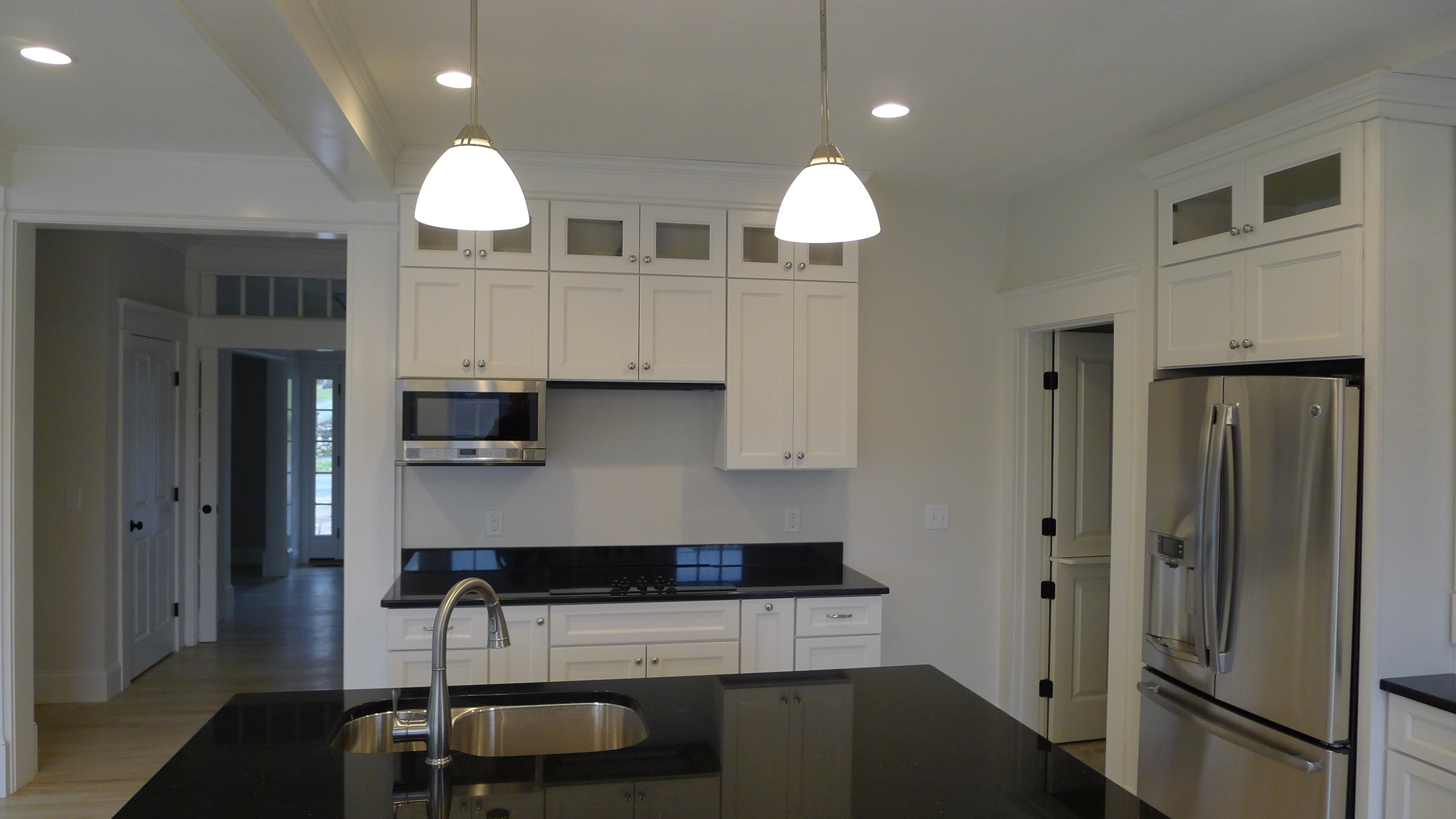 Follow-on Project:
Upon completion of the home, Rob asked the GBCo team to help him create a workshop/barn at the back of their property. Again, the project team was tasked with accommodating very specific interior features and performance requirements while at the same time making the workshop look like a barn from yesteryear. This time GBCo created a 1 story structure, with red board and batten siding that was built into the existing hillside to minimized its impact upon the overall property.
Rob's Conclusion:
Rob Aberg stated, "I knew it was all going to work for us when one day I drove past the construction site with a colleague on the way to maintaining some of the walking trails in town. The exterior was all in place, but it was still clearly a construction site. The colleague knew of my old house but didn't know this under construction home was going to be our new house. As we drove by, she said "Oh look, they're fixing up that old house – I love that." … she didn't even realize that this was a brand new house! Right then I realized that Eric Gilmore had pulled it off – our new home looked old and historic and was definitely fitting in with the rest of the neighborhood."